House System
The House System plays a key part in establishing and reinforcing the school's ASPIRE ethos and our five key values. Every student at Moulton is assigned a house, made up of two form groups from each year split across both halves of the year.
The reformed house system has seen a return to traditional house colours as well as an increased number of Interhouse competitions. As a consequence, this has created a greater identity as a house and students are proud to represent their house across a variety of activities.

 
Respect, safety and positivity underpins everything we do,
With these three things, we can ensure, that we are winners through and through.
We are kind and we cooperate with our peers, young and old,
To help each other be the best, for our future yet untold.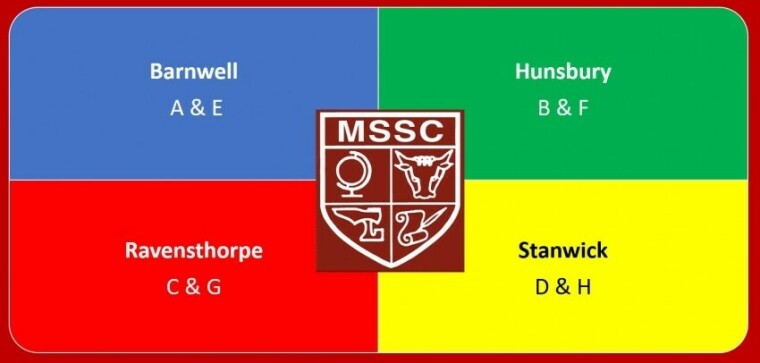 The House system creates healthy competition, promotes good work and behaviour, encourages teamwork, provides opportunities to take on responsibilities and brings everyone in the school together.
Each House has the opportunity to win:
The House Cup, awarded three times a year at Christmas, Easter and Summer across a range of Interhouse activities.
The Sports Day Shield, awarded once a year in July, on Sports Day.
The Charity Cup, awarded every half term to the most charitable house.
The Attendance Trophy, awarded every half term to the house with the best attendance.
Each House has a set of dedicated House Leaders & House Captains. The House Leaders make up our senior Prefect team in Sixth form and work hard to make sure students at Moulton are given a variety of opportunities and rewards.
House Leaders:
Barnwell - Max Gjoka, Suhaylah Ame, Joann Varghese, Ruby Marris, Emma Buckingham, Robyn Barnett.
Hunsbury -Lucie Drake, Callum Schulz, Bailey Darkes, Josephine Lawton, Paige Lutzi, Joy Akinola, Ella Lambert, John Magson, Dylan Singh.
Ravensthorpe - Eva Lay, Megan Ashton, Alfie Bennett, Lauren Haley, Nawwaf Abdalla, Foteini Bitvelia, Naytham Iddy, Rahel Akuamoah, Solenne Tientcheu, Johan Abraham.
Stanwick - Marcus Brobbey, Harriet Malone, Aakifa Kardamay, Summer Rowe, Bethan Wilson, Hannah Petty, Mame–Adjowa Obboye.
The House Captains liaise with their House Leaders and Mr Martin regarding upcoming house events and then communicate this information with their house, as well as playing a key role in leading, organising and participating in House events.
House Captains:
Barnwell - Nathaniel Elliott-King, Rose Bailey, Millie Clack, Chloe Shuttleton, Casper Coote, Jack Clarke, Evie Millward Brown, Gracie Green, Andre Hawley, Jamie Fuller, Mubruka Kardamay.
Hunsbury - Logan Dorr, Jensen Timperley, Chloe Marekwica, Jamie Macandrew, Elise Allebone, Jack Wilkinson, Amelia Brown, Jamie Young, Viola Fernando, Haydon Jones, Summer Maradzika.
Ravensthorpe - Amelia Rex, Jorja Addington, Alex Loveday, Angela Araoye, David Bugajczyk, Austin Timperley, Isla Bennett, Rohan Bagha, Tinashe Mumbure, Ryan Lok, Alesia Wright.
Stanwick - Poppie Mitchell, Isabelle Gray, Finlay Parnell, Oscar Brown, Nathan Doherty, Violet Smith, Harry Flowers, Mae Wakefield-Lewis, Elija Garsvaite, Tom Farebrother, Grace Brown, Josh Ford.
View House Captains 2023-24 PowerPoint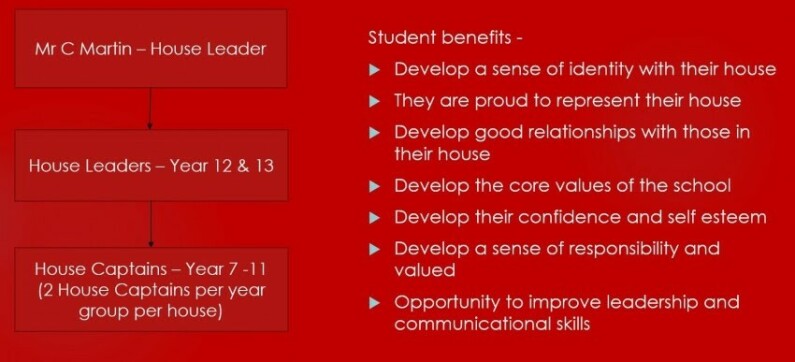 This Years Awards:
Sports Day Shield 2022 - Stanwick
Sports Day Shield 2023 - Hunsbury